In addition to my administrative assistant, Nilde Itin, there are three individuals who help make this ministry possible: My associate, Jeff Jordan; the webmaster for this website, Colin Preston; and the webmaster for the Adventist Deaf Ministries International website and for Hope Channel – Deaf, Amanda Colgan. All four individuals bring talent and a Christ-centered enthusiasm to this ministry. I am very grateful to have each one as part of this team! – Larry R Evans
Larry Evans
Larry is currently the Assistant to the General Conference President for the Deaf and Possibility Ministries. He has served in a number of capacities including church pastor, a church planter, a pastor for pastors, a multicultural director, a conference secretary and conference president. Prior to his current ministry in the General Conference he served as the Assistant to the President for the North America Division and then as General Conference Undersecretary and Associate Stewardship Director. He helped organize what is now known as Adventist Deaf Ministries International. He received his Doctor of Ministry from Andrews University.
He is married to Carolyn (Bigger) who worked at the General Conference as an interdivision specialist in support of missionaries. They have 2 sons and five grandsons.
Larry cares deeply for those who have been marginalized by society and who do not claim Jesus as their special Friend and Savior. His emphasis brings focus to what a person can do and become—rather than what they once were or cannot do.
Jeffrey Jordan
Pastor Jeff is the Deaf Pastor of Southern Deaf Fellowship near Collegedale, Tennessee. He was born deaf from an unknown cause, and American Sign Language (ASL) is his first language. He received his M.Div. degree from Andrews University Seventh-day Adventist Theological Seminary in 1996. In 2016, Jeff was appointed to serve as the Associate Coordinator for Deaf Ministry for the General Conference while he continues to pastor full time in the Georgia-Cumberland Conference. Jeff is married to Melissa, who interprets for "It Is Written" and "Every Word in ASL", and they have four sons.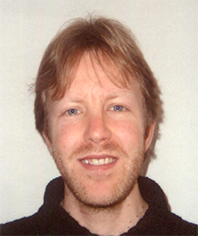 Colin Preston
Colin is the Community Manager for Hope Channel-Deaf on Amara, a web-based platform for creating subtitles,
and is also the webmaster for the Adventist Possibility Ministries website. He is a native of South Africa, born in East London.
He earned a National Diploma in Electrical Engineering at the Cape Peninsula University of Technology, and later also earned a Systems Analyst degree from the River Plate Adventist University.
He has worked for the Voice of Prophecy Bible Correspondence School in Cape Town, South Africa, providing IT support and maintaining their website. Colin is married to Noelle, who is completing her medical studies.
Amanda Colgan
Amanda graduated from Rochester Institute of Technology with a Bachelor's degree in packaging engineering. She worked as a Packaging Engineer at Medtronic in Minnesota. Currently, she is a homemaker raising two young children. She has been married to her husband, Kevin, for ten years and they live in Massachusetts, USA.
Amanda, who is deaf, is very active in the Deaf Ministry and is involved with several organizations. She has been the secretary and is now currently president for the Deaf Young Adults for Christ organization. She has been on the Deaf Ministry Committee for North American Division for a number of years. Amanda was on the Board for the Three Angels Deaf Ministries. In addition to that, she is involved with Southern New England Conference Deaf Ministry that meets monthly and hosts an annual Deaf camp meeting and a Deaf conference. Amanda was hired as the website content manager of two websites for the Adventist Deaf Ministries International and Hope Channel Deaf, working closely with Dr. Larry Evans.
Micheline Barbe
Micheline comes from the beautiful Island of Mauritius. On July 1, 2018, her family moved to Maryland where her husband serves as associate director for the Stewardship Ministries. In 2019 she started as an administrative assistant in the Presidential office. Prior to this assignment, Micheline worked as an administrative assistant in the private corporate world in Mauritius, in the Indian Ocean Union Conference, Madagascar and also in the Southern Africa Indian Ocean Division (SID), South Africa.
Micheline is compassionate and seizes every opportunity to serve God through serving others.